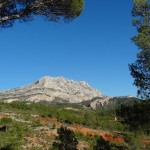 Camping near Sainte-Victoire, in Provence
Camping Le Devançon, located in the heart of nature, in the heart of Provence, is ideally located to visit the Sainte-Victoire.
Spacious pitches, comfortable mobile homes, calm and serene atmosphere, the holidays at the campsite Le Devançon are a real moment of relaxation.
Apart from moments of idleness or board games, you can also plan a trip to the Sainte-Victoire mountain, in Provence near Trets, Peynier, Rousset and Puyloubier.
> DISCOVER CAMPING HOUSING FOR THE WHOLE FAMILY!
---
The highest point of Sainte-Victoire mountain: 1011 meters. True jewel of Mother Nature, Sainte-Victoire is located east of Aix-en-Provence. Paul Cézanne has, in fact, paid tribute in about sixty of his works. More than an artistic inspiration, Sainte-Victoire is a limestone massif with international notoriety.
Reason enough not to miss out during a stay in Provence-Alpes-Côte d'Azur and in the departments of Bouches-du-Rhone and Var.
If the mountain remains a must in the region, you should know that many activities revolve around. How to discover Sainte-Victoire? The answer to this question in this article.
Visit Sainte-Victoire: discover the massif otherwise
1 – Hiking. It goes without saying that Sainte-Victoire Mountain and the surrounding areas deserve more than just a glance. Many walking routes are to be discovered from Gréasque, Aix en Provence, La Roque d'Anthéron, Saint-Cannat … These routes are accessible to all. Marked circuits between 10 and 12 km will allow holidaymakers to discover the beauty and secrets of the region.
2 – Climbing. For those who want to be closer to the famous Victory, what better than climbing? Climb centuries of history, go beyond your limits and climb Sainte-Victoire to find a point of view that fills your thirst for wonders and breathtaking views.
3 – The paragliding. Want to discover the region in a unique and sensational way? In this case, opt for paragliding! Hover over the massif and enjoy a spectacular view of Provence. Fly above the rocks like a bird and combine this cultural discovery with a good dose of thrills. However, beware, Sainte-Victoire Mountain is not a school site. It is aimed at experienced and confirmed pilots. It is recommended to get closer to the clubs of the region and to learn about the courses they offer around Sainte-Victoire.
> DISCOVER CAMPING HOUSING FOR THE WHOLE FAMILY!
---
4 – Holidays in Provence on horseback. Discover the region and Sainte-Victoire on horseback allows to associate the pleasures of the company of the animal to the discovery of a unique place. 
Also, going to Sainte-Victoire on horseback is a way to avoid fatigue and fully appreciate the spectacle that Mother Nature has to offer.

5 – Orienteering during his vacation on Sainte-Victoire. Many partners offer orientation races around Sainte-Victoire. Perfect for young and old, orienteering allows you to discover the splendours of Provence while having fun. 
It's also a fun way to play sports without feeling like you're doing it!

6 – Camping in Sainte-Victoire. Want to dive in the heart of nature? In this case, why not opt for camping? Less expensive than housing in hard and more conventional, campsites can save money and discover the sites of Provence in an original and authentic way.

Be closer to the fauna and flora and let yourself be enchanted by the undeniable charm of the region.